The Manhasset-Lakeville Fire Department Ex-Chiefs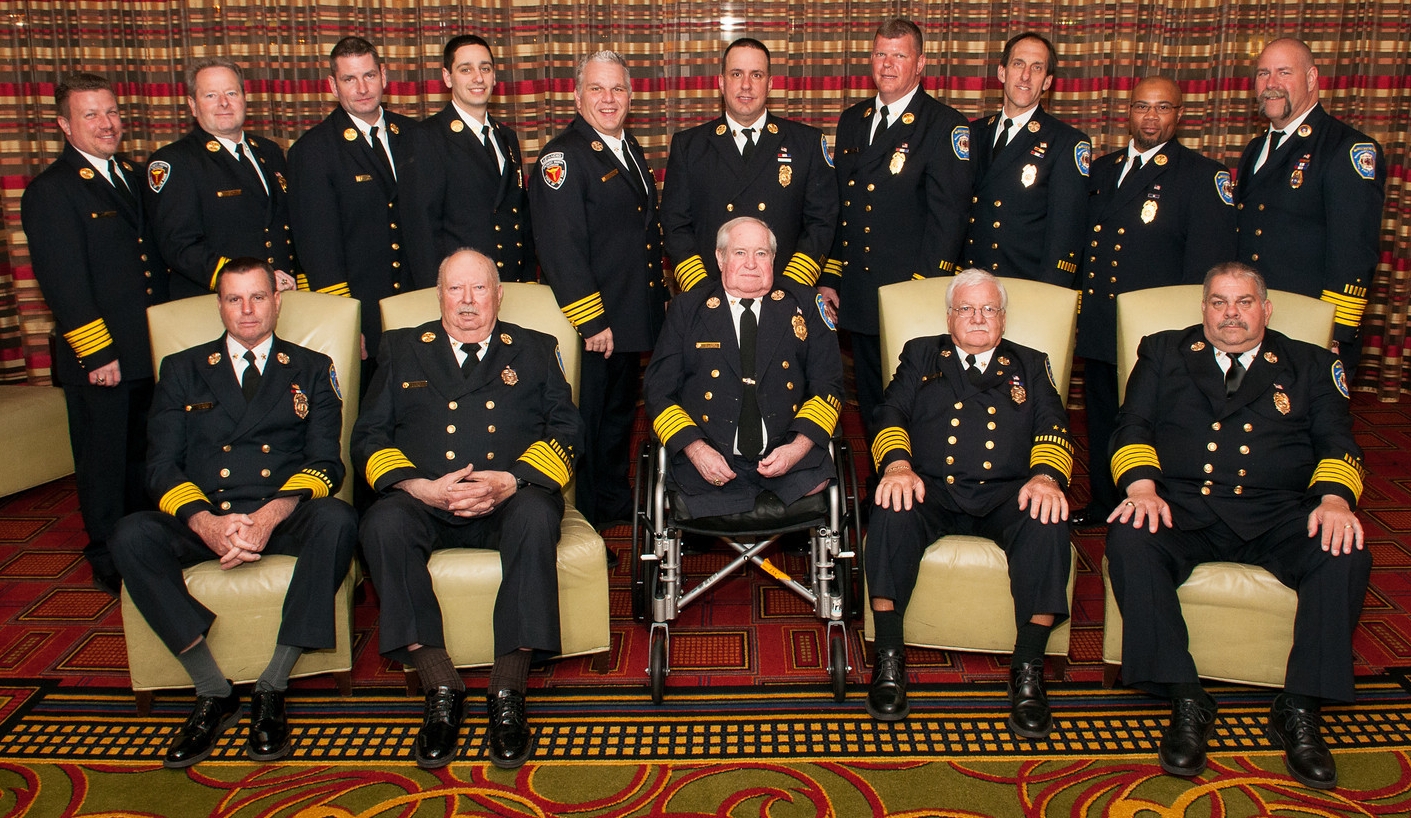 Photograph of the current M-LFD Chiefs with several Ex-Chiefs at the 2013 Installation Dinner.
L-to-R Standing: Ex-Chief Michael F. Uttaro, Ex-Chief Bryan O'Malley, Ex-Chief James M. Pitzer, 4th Deputy Chief Kirk Candan, 1st Deputy Chief Michael Farrone, Chief of Dept. Christopher Pisani, 2nd Deputy Chief Scott Garrigan, 3rd Deputy Chief Mark Kiess, Ex-Chief Kyle A. Dugger, Ex-Chief Brian J. Morris.
L-to-R Seated: Ex-Chief Joseph T. Geiman, Ex-Chief Walter J. Sawolski, Ex-Chief Barry S. Robinson, Ex-Chief Neil Hicks Sr., Ex-Chief Daniel Ladislaw.
The individuals listed below have proudly served as Manhasset-Lakeville's Chief of Department:

1912 Martin Schenck

1958-1960 John W. Paradise

1997-1999 Daniel Ladislaw

1913 H. Charles Stevens

1960-1962 Joseph Mastro

1999-2001 Louis Scida

1914 Martin Schenck

1962-1964 Robert Terry

2001-2003 Patrick McGrath

No Date James McIntosh

1964-1966 Lewis Hirst

2003-2005 Brian J. Morris

No Date Danial Burke

1966-1968 Russell Mallgren

2005-2006 Lee T. Strickland*

1918 Herbert Matthews

1968-1970 John Idol

2006-2009 Bryan O'Malley

1922-1923 Ernest Hutchings

1970-1971 Nathan Apanof

2009-2010 Michael F. Uttaro

1923-1924 John Hehn Jr.

1971-1973 Julius Greico

2010-2011 Kyle A. Dugger

1925-1928 Elisha Rice

1973-1975 Leo Sniadecky

2011-2012 James A. Dillon

1928-1930 William Miller

1975-1977 Francis Gould

2012-2013 James M. Pitzer

1930-1931 Josiah Rice

1977-1979 Thaddeus Stasiewicz

2013-2014 Christopher Pisani

1931-1935 Harold W. Smith

1979-1981 Edward Bennett

2014-2015 Michael Farrone

1935-1937 Fred A. Nickels

1981-1983 Walter J. Salowski

2015-2016 Scott Garrigan

1937-1945 William H. Bickell

1983-1985 Joseph Morris

2016-2017 Mark Kiess

1945-1948 Chester Chicosky

1985-1987 Barry S. Robinson

2017-2018 Christopher Pisani

1948-1950 Charles Namur

1987-1989 Kenneth J. Paradise

2018-2019 Brian Stone

1950-1952 Leon Novinsky

1989-1991 Joseph T. Geiman

2019-2020 Craig Gobbo

1952-1954 Anthony E. Paradise

1991-1993 Neil Hicks Sr.

2020-2021 William Mazurkiewicz

1954-1956 James A. Platz

1993-1995 Herman P. Wiegand

2021-2022 Michael Rice

1956-1958 Donald Gray

1995-1997 Robert J. DeVito

2022-2023 Gregory Weisbdurd

* Passed away while serving as M-LFD Chief of Department